Important information about Manganese carbonyl, 98% - CAS:10170-69-1
The above information and Specification of the product CAS:10170-69-1 shall be used only as a guide. If you wish higher quality of the product with formula Mn2(CO)10, special packing or have any other requirements, please contact us.

Intatrade Chemicals concentrated its efforts on research and development of new synthetic technologies and on satisfying consumer demand for new synthetic materials.

We offer wide-range services for custom synthesis to meet various requirements of customers targeted applications.



Specification (MSDS)
Formula: Mn2(CO)10 - (Mn2(CO)10)
DANGER!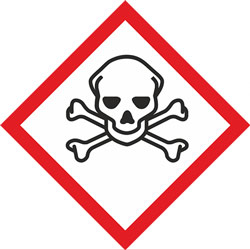 Hazard Statements: H301: Toxic if swallowed.
H311: Toxic in contact with skin.
H331: Toxic if inhaled.
Precautionary Statements
Prevention: P261: Avoid breathing dusts/fumes/gases.
P264: Wash exposed skin thoroughly after handling.
 P270: Do not eat, drink or smoke when using this product.
P271: Use only outdoors or in a well ventilated area.
P280: Wear protective gloves/ protective clothing/ eye protection/ face
protection.
Response: P301 + P310: IF SWALLOWED: Immediately call a POISON CENTER
or doctor/physician.
P302 + P352: IF ON SKIN: Wash with plenty of soap and water.
P304 + P340: IF INHALED: Remove victim to fresh air and keep at rest
in a position comfortable for breathing.
P311: Call a POISON CENTER or doctor/physician.
P330: Rinse mouth.
P361: Remove/Take off immediately all contaminated clothing.
P363: Wash contaminated clothing before reuse.
Storage: P403 + P233: Store in a well ventilated place. Keep container tightly
closed.
P405: Store locked up.
Disposal: P501: Dispose of contents/ container to an approved wasted disposal
plant.
General: None.
OSHA/HCS Status: This material is considered hazardous by the OSHA Hazard
Communication Standard (29 CFR 1910.1200).
Hazards not otherwise
classified (HNOC): None known.